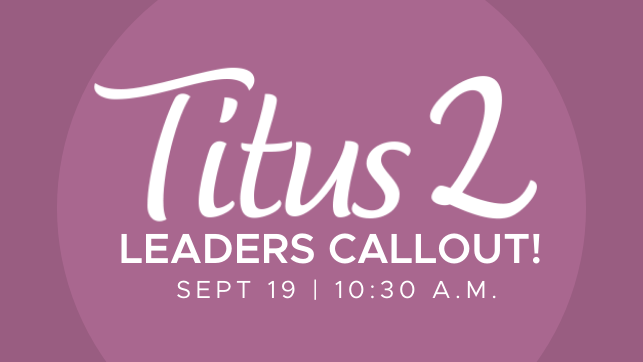 Sunday, September 19, 2021
,
10:30 AM - 11:00 AM
Interested in discipling other women at Castleton? Join us for our Titus 2 Leaders Call-Out on September 19 after 1st service in the Adult Ed room! At this meeting you will learn about the Titus 2 ministry and what it means to Co-Lead one of our upcoming discipleship groups.
What are Titus 2 Women's Discipleship Groups?
In Titus 2:3-5, the apostle Paul paints of beautiful picture of a church where older and mature women in the faith are training younger women to faithfully live out the gospel. This vision of discipleship is something we strive to emulate at Castleton Community Church, and our prayer is that this intentional discipleship is happening organically in a variety of way within our church.
One of the ways we formally pursue the vision of Titus 2 is through our Titus 2 Discipleship Groups. These year-long groups are led by two spiritually mature, older women who are committed to leading women to know and trust Jesus more and more. These groups (no larger than 6) meet together once a month to discuss what Bible says about pursing godliness as a woman using books like Adorned or Growing Together as helpful frameworks. Furthermore, leaders will also meet one-on-one with the individual members of the group for more personal discipleship and mentorship in Christ. Some groups may also offer opportunities to learn traditional homemaking skills throughout the year.
Our ultimate hope is that these deep, intentional relationships will propel our women to faithfully live out the heart of Titus 2 and they would know and trust Jesus in an abiding way.
Looking to participate in a Titus 2 Group?
If you're a woman looking for intentional discipleship, we'd love for you to consider a Titus 2 Discipleship Group! These year-long groups begin in January of every year, but space is limited. Let us know if you're interested by filling out a Titus 2 interest form. The form will be available October 2, 2021.
Looking to Co-Lead a Titus 2 Group?
Are you a godly, mature woman interested in being a Titus 2 leader? We invite you to learn more about the Titus 2 Ministry at our upcoming Leaders Call-Out Meeting on Sept 19 or we encourage you to fill out the Titus 2 Leader Application. Once the application is completed, our Women's Ministry Leadership Council will reach out to set up a meeting with you to talk more about the ministry and the leadership role.